NewYou can listen to LBL articles now!
The Ninth Circuit Court of Appeals issued Emergency injunction An appeal is pending against the San Diego Unified School District (SDUSD) on Monday after a student-athlete sued the district for religious discrimination because of its COVID-19 vaccine mandate.
In September, SDUSD's school board is open to students aged 16 and over. The under-20s voted in favor of the need to completely vaccinate against COVID, which requires them to get their first dose within Monday. Anyone who fails to comply is compelled to attend school remotely.
In October, attorneys with the Thomas More Society sued the family of a 16-year-old Scripps Ranch High School student, referred to in court documents as "Jane Doe." The lawsuit argued that religious exemptions should be allowed if the school district also allows medical students to be pregnant.
A judge has blocked the Biden vaccine order for health workers in 10 states
Many religious objections to vaccines refer to the use of fetal tissue for their development. No COVID-19 vaccine contains embryonic cells, but embryonic cell lines, which are grown in a laboratory with decades-old embryo tissue. Has been utilized In the research and development of vaccines delivered by Pfizer, Moderna and Johnson & Johnson.
"Under the Covid-19 Vaccination Ordinance of the San Diego Unified School District, the injunction is only effective when pregnant 'per se' postponement is available to pregnant students," wrote Judges Marsha Barzan and Mark Bennett. Administration. "The injunction ends after the option of postponing 'per se' for pregnant students is eliminated."
"I agree with Doe's urgent appeal for the pending appeal of the injection," Judge Sandra Ikuta said. "But I will issue an injunction until the San Diego Unified School District stops treating any student seeking relief from a vaccination order for secular reasons more favorable than a student who receives no vaccine for religious reasons.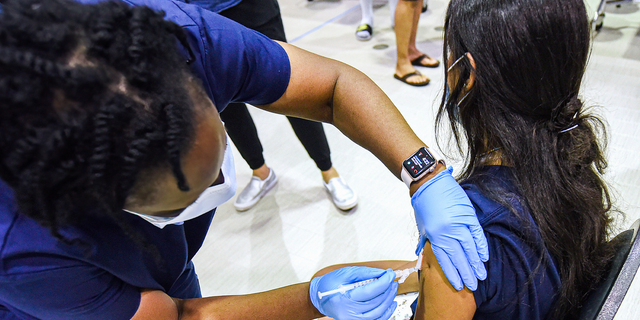 Describing the SDUSD vaccine as "one of the toughest in the nation," Thomas More Society lawyer Paul Jonah told LBL that the court order was "a great victory" even though the case was still early.
Jonah said, "SDUSD should quickly revise its policy to include religious exemptions for students. Otherwise, we are fully upholding our clients' rights if necessary in the Ninth Circuit or the US Supreme Court."
"The COVID regime of secular favorites but of religious exclusion must end," Jonah added. "There is no vaccine exemption for the free exercise clause. Until that fact becomes the law of the country, the passage for state-enforced vaccination for religious freedom – secular immunity – will not end."
SDUSD did not immediately respond to a request for comment.